December 1, 2016
Kenya Ministry Update
Dr. Stice had another successful trip to Kenya with the International Medical Exchange. She has since made a YouTube interview about the creation of her Salama Stoves with Metro Community College.  We encourage you to take some time to learn about the stoves.
The Salama Stoves are making a profound impact in the lives of the women who get them. They spend less time collecting wood because the burns use less wood and burn hotter. The time they are not tending the fires like they used to have to, is now time they can care for their family and do other jobs. They are also safe from the risk of carbon monoxide poisoning and the burns that happen when they fall into the open fires they had to use previously. If you would like to buy a Salama Stove for a family in Kenya, you can do that online.
June 2016
We have a short-term project to make hats and crib blankets for newborns in Kenya.
Dr. Colleen Stice joins us for worship and the education hour on Sunday morning, July 10. In addition to her medical practice in Omaha, she leads a medical mission in Kenya. Her charitable organization, International Medical Exchange, Inc., provides training to Kenyan medical staff and direct care to patients. We can support her work by making hats and crib blankets. Newborns are dying in Kenya simply because they are too cold. We can do something about that!
Dr. Stice goes to Kenya in October so we hope to send lots of hats and blankets with her. Each article can be responsible for saving the life a newborn child. Members of all ages will be able to help make both the warm hats and crib blankets. Dr. Stice recommends hats that fit even youth and adult heads. This will probably be the only hat the newborn will ever have and it could last many years. The material can be wool or polar fleece or the cloth we use to make our quilts.
Can you make hats? Please do! Can you tie a small polar fleece blanket? Please do! Can you make crib blankets from left over material? Please do! We will gather these together by the end of September, 2016, pack them up, and give them to Dr. Stice to take with her when she flies to Kenya in October.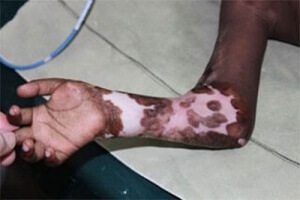 Dr. Stice, a plastic surgeon, has developed the Salama Stove with the help of a few people. These stoves save people from horrific burns. It's worth checking out the website to learn more and to donate, if you would like to. Pastor Carm bought a stove for a family and encourages others to. There was a great interview about this on WOWT. You can check it out here.